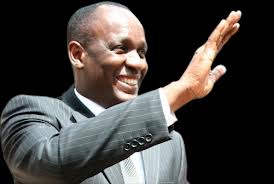 Jailed former health state minister Mike Mukula has been sent back to Luzira prison after the hearing of his appeal flopped.
He had appeared at the Anti-Corruption Division of the High Court for hearing of his appeal but the prosecutor Sydney Asubo asked for an adjournment saying he needed more time to certify records of proceedings.
Asubo said he had discovered that the records had some mistakes that needed to be corrected before hearing can commence.
High Court Judge David Wangututsi has now set February 8th for commencement of the hearing.
He has also said that there is no need for a bail application since he intends to handle the appeal expeditiously.
Meanwhile Mukula has assembled a new team of lawyers to handle the appeal.
They include David Mpanga, Earnest kalibbala, Paul Ekochu and George Omunyokole.
In his appeal that is before the High Court Division of the Anti-Corruption Court Mukula is challenging both his conviction and four year sentence.
He says the magistrate did not properly evaluate the evidence on record since he returned the money back to the GAVI account.
This is after the Anti-Corruption Court found him guilty of embezzling 210million shillings meant for immunization.