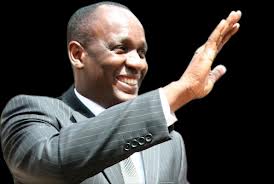 Former State Heath Minister Captain Mike Mukula is now a free man.
He has been acquitted of charges of embezzlement, on which he had earlier been convicted and sentenced t0 4 years in prison.
Anti-Corruption Court Judge David Wangutusti has set Mukula free on grounds that prosecution had failed to produce adequate evidence against him.
Justice Wangututsi says the court's Chief Magistrate Irene Akankwasa rejected some evidence, which could have shown the innocence of the accused.
He agreed with Mukula's lawyers that the magistrate did not evaluate properly all the evidence that was before her.
He also ruled that ministers like Mukula was at the time, are not civil servants and are thus not charged with accountability of government funds.
Mukula had been convicted and remanded to Luzira prison for embezzling 210 million shillings from the Global Alliance for Vaccines and Immunization.
Speaking to journalists shortly after the ruling was made, Mukula said he was happy justice had finally been served.
Mukula was convicted on 18th January this year and had been at Luzira since then.