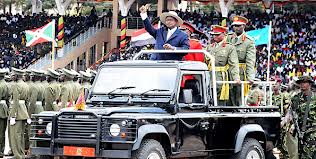 President Yoweri Museveni has once again attacked the International Criminal Court (ICC).
This comes a day after the Kenyan president Uhuru Kenyatta appeared before the court in The Hague over the post-election violence in his country in 2007.
Speaking at Uganda's 52nd independence anniversary celebrations at Kololo ceremonial grounds in Kampala, Mr.Museveni said African countries must now reconsider membership to the ICC treaty, accusing the body of being biased.
President Museveni has also blamed uncontrolled human activity in protected areas for the outbreak of diseases like Marburg and Ebola.
He said the viruses have always been there in forests blaming encroachers for spreading disease to society.
He also called for strict enforcement of forest conservation laws, protecting conserving forests protects both the environment and human life.
Speaking at the same function, Tanzanian President Jakaya Kikwete hailed Museveni and his government for the peace and economic growth of the country.
Kikwete said the country is enjoying peace and stability a commodity that was scarce before the NRM took over power.
He added that the country had experienced tremendous progress on the social economic side with Ugandans living better than 30 years ago.
He also pledged continued cooperation with president Museveni in ensuring the growth and development of the region.
Also in attendance, were Rwanda president Paul Kagame, and South Sudan's Salva Kiir among other dignitaries.
In Kasese, the district Local Government has used Independence celebrations to launch a system of recognizing individuals who have greatly contributed to the development of the town.
The District Chairperson Lt. Col Mawa Muhindo revealed that a list of such people has already been drawn.
While in Kaliro, the district chairman has asked Ugandans strive to achieve economic independence as they celebrate the Independence Day today.
The independence celebrations were running under the theme: "Unity, Peace, Security and Regional Integration; Key pillars for true and sustainable development".