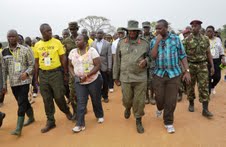 President Yoweri Museveni has expressed concern over the high temperatures currently experienced in many parts of the country especially in Kampala.
Addressing NRM caucus members attending a retreat at the National Leadership Institute in Kyankwanzi, Museveni has blamed the heat on destruction of the wetlands.
He is now calling for support to ensure that the wetlands that have been encroached upon are reclaimed, suggesting that a fund be set up to compensate the affected people.
Meanwhile, Members of the NRM who were recently appointed by president Museveni to take up top party positions will not resign.
This has been confirmed by the party's outgoing Chief Whip Kasule Lumumba who was appointed Secretary General among three other leaders.
Lumumba is however optimistic that by the end of the NRM Caucus, the president will found their replacements.
The others to be replaced include Richard Todwong who became the party's Deputy Secretary General, Rose Namayanja who is the party National Treasurer and Kenneth Omona who is the deputy treasurer.
Meanwhile she says Political experts from Ethiopia and Malaysia are to address NRM legislators in Kyankwanzi this week on issues to do with political ideology and economic transformation.
Still in a related development, the leader of opposition in parliament Wafula Oguttu says he is not moved by the presence of independent legislators in Kyankwanzi.
Oguttu says he was informed that the Members of Parliament (MPs) were invited as resource persons as the NRM debates electoral reforms.
He however says if the MPs attend the whole week retreat, then questions should be raised.
Wafula on independents.
During the 7-day retreat that enters day two today, the NRM leaders are expected to among other things review the party's manifesto for the past five years.
The NRM Kyankwanzi retreat is running under the heme; Fast tracking NRM manifesto 2011-16: Our commitment to service delivery, job and wealth creation.
Story by Benjamin Jumbe