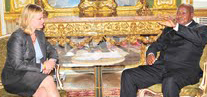 President Yoweri Museveni says that regional leaders have the capacity to solve the ongoing crisis in south Sudan.
While meeting the British Secretary of State for International Development, Justine Greening at the sidelines of the UK – Uganda Business Forum, Museveni said the crisis in Sudan is solvable if regional leaders unite.
He said the civil strife in Northern Uganda was worse than that of South Sudan but due to a combined effort peace was fully restored in the region.
He also condemned South Sudan leaders for succumbing to sectarian ideology instead of fronting a united country.
The President who is on a three day working visit to London had earlier given a key note address at the business forum organized jointly by Uganda Investment Authority and the Commonwealth Business Council.
He advised the British government to direct its financial assistance to direct investments and leave the Ugandan government to handle the infrastructure. He said that there was need to address the hardware problems such as the infrastructure as well soft ware issues such as good governance and democracy.