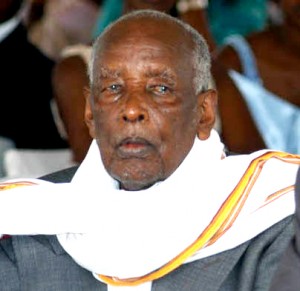 Condolences are pouring in from different sections of society, to President Museveni whose father passed away today.
A section of Members of Parliament have described the late Mzee Amos Kaguta as a humble parent whose character has been unique.
MPs including Mathias Kasamba, Harriet Ntabazi, Fred Ebil, Bernard Atiku and Allen Kahunde say Mzee Kaguta's unique character can be seen from the way he brought up his children.
They say Mzee Kaguta has died at a time when the country needs its elders to advise the young generation.
They however say that he has made his contribution in the wellbeing of this country and therefore his life should be celebrated instead of mourning.
The Uganda People's Congress Party has also sent a condolence message to President Museveni.
Mzee Kaguta passed away this morning at Kampala International Hospital where he had been admitted under intensive care.
The president's father was rushed to the facility towards the end of last week reportedly with stomach complications.
The party National Coordinator Sospater Akwenyu says they were saddened by the news of the death of Mzee Kaguta, adding that he will be remembered as a humble man.
Meanwhile President Yoweri Museveni is in Rwakitura with family as they mourn the passing of his father.