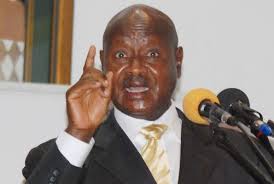 President Yoweri Museveni has finally spoken out on Sejjusa.
He has vowed to crash renegade General David Sejjusa should he attempt to use force to over throw the government.
This was during a news conference held at State House Nakasero in Kampala this evening.
Meanwhile, the president who is also the Commander in Chief of the Armed Forces has declared Sejjusa a Deserter.
Museveni says Gen. Sejusa has already broken the law and will be handled accordingly.
Sejjusa's matter is currently before parliament's Rules, Privileges and Discipline committee for investigation after the Speaker Rebecca Kadaga confirmed that he was not in UK on parliamentary or official army duties.
The former head of intelligence services fled the country in April this year after he wrote a scathing letter to the Internal Security Organisation (ISO) to investigate claims that top officials, including the chief of police, may have plotted to either assassinate, or frame, colleagues.
The allegations stemmed from earlier claims he made indicating that there was a plot by the president to have his son replace him, which have vehemently been denied by government.