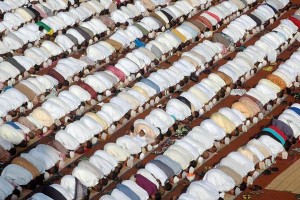 Calls for peace dominated Eid-al-Fitr prayers at the different mosques in Kampala an across the country.
At the Gadaffi Mosque in Old Kampala, the Mufti of Uganda Sheikh Shaban Mubajje condemned the attacks in Gaza that claimed more than 1,000 lives.
He said the International community should take action and bring an end to the fighting.
"In fact the whole world is at war because some people regard themselves more valuable than others. The killing of the three youth cannot justify the killing of more than 1000 innocent people including women and children", Mubajje said.
"My appeal to world leaders and to those with power is respect humanity and encourage dialogue and peaceful means of resolving conflict", he added.
At Kibuli mosque, the Supreme Mufti Sheikh Zubairi Kayongo has disassociated the Muslim faith from the Kyegegwa attacks.
Last month, a group of men believed to be Muslims attacked a Pentecostal church in Kyegewa district demanding that it be demolished and instead a mosque be constructed.
However, delivering his Eidh message this morning, Kayongo said such criminals must be punished according to the law because Islam is a religion of peace and love.
At Wandeya mosque still in Kampala, Sheik Kasule Ndirangwa advised Muslims to celebrate in a manner that does not tarnish their religion. And in Masaka, Muslim Clerics have called for religious representation in parliament.
Masaka Municipality Sheik Twaha Bugembe asked that 3 slots be created for the Muslims, Christians and the Born again under the special interest groups.
However, as Muslims all over the country today mark the end of the holy month of Ramadhan, members of the Shia sect have shunned the celebrations.
Speaking from their headquarters in Mayuge district, the head of the Shia sect Sheikh Bastuli Muwaya said they cannot celebrate Eidh today because the never sighted the moon.
"All my people should look out for the moon tonight and if sighted, they can then celebrate Eidh tomorrow," Muwaya said.