According to Mbabazi, the bill was not only sneaked into the House but also required wider consultations because homosexuality is not a new phenomenon in Uganda.
Mbabazi who opposed the passing of the bill citing lack of quorum believes that homosexuality is an abnormal situation that requires a gradual rather than a radical approach;
Meanwhile, Uganda's ambassador to Canada Alintuma Nsambu says sections of the population there have started mobilizing against Ugandans.
In a separate development, human rights activists have thrown their weight behind President Yoweri Museveni's resolve to study the Anti-Homosexuality bill before assenting to it.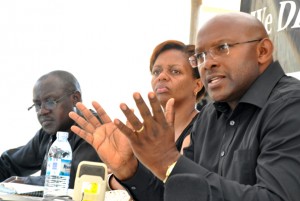 In December, Parliament passed the bill, which seeks to outlaw acts of homosexuality and prescribes life imprisonment for persons caught in the acts.
However, NGO Forum Executive Director, Richard Ssewakiryanga and Uhuru Institute's Leonard Okello say the bill has sections that violate human rights and needs further study.