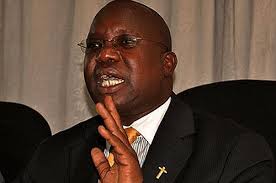 The source of billions of shillings at the NRM party should be probed.
Some legislators want the Ministry of Ethics and Integrity to investigate how the NRM is spending billions of shillings ahead of the 2016 elections.
Western Youth MP, Gerald Karuhanga and Bugweri MP, Abdu Katuntu contend that in recent months, the party has been dishing out money to its legislators to popularize the candidacy of President Yoweri Museveni as the sole party flag bearer in 2016.
The MPs say Ugandans need to know whether taxpayers' money is being misused and corruption is not being encouraged.
However, Ethics and Integrity Minister, Fr. Simon Lokodo says the monies used are from the party coffers, but adds that monetization of politics is wrong.