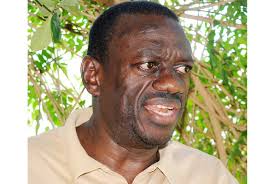 Opposition Political parties have disputed a poll commissioned by the Daily Monitor Newspaper to assess the state of public opinion ahead of next year's general elections.
According to the Democratic Party Secretary General Mathias Nsubuga, the poll which put President Museveni far ahead of likely contenders for the Presidency in 2016, will instead cause voter apathy.
He said it is unfair for anybody to compare any candidate to President Museveni who has been campaigning for the last 3 years but using state machinery to deny other political parties space, a claim that the NRM has often denied.
John Kikonyogo, the FDC party spokesperson, while addressing the media at the party's headquarters in Najjankumbi yesterday also questioned the rationale and credibility of the poll, saying it was most likely done by an amateur rather than a professional.
Kikonyogo has rubbished it as only meant to divert public attention from the wrangling within the NRM. He also raises questions regarding the scope of the poll.
But NRM party deputy Treasurer, Dr. Kenneth Omona said President Museveni's popularity is increasing because the opposition is very weak.
The poll gives president Museveni a 57% lead against Kiiza Besigye's 8%, 6% for Amama Mbabazi, 5% for Rebecca Kadaga and 3% for Norbert Mao among others.