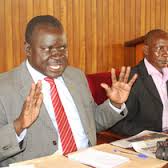 Opposition legislators have questioned the absence of their counterparts in the ruling NRM party.
Over the past weeks, NRM MPs have been mobilizing support from the electorate to endorse President Yoweri Museveni as the party's sole flag bearer in the 2016 elections.
Terego County MP, Kassiano Wadri raised the matter this afternoon, saying the NRM members have been in mobilization activities, forgetting their duties in the House yet the budget process is ongoing.
However, State Minister for Animal Husbandry, Bright Rwamirama defended the legislators, saying it is part of their constituency work.
The Speaker of Parliament, Rebecca Kadaga has in recent weeks asked party chief whips to ensure that MPs attend House sessions.