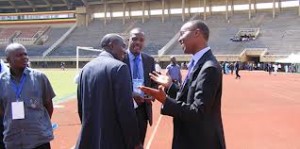 The Opposition needs to be organized to take over power in Uganda.
Forum for Democratic Change President, Gen. Mugisha Muntu says the opposition needs to push for a united front to be able to provide leadership for this country.
Speaking at the end of year address by the opposition in Parliament today, Muntu said the opposition has faced a lot of strife this year and requires concerted efforts to enable the alternative voices gain momentum.
He asked opposition legislators not to be swayed by the NRM numbers.
Speaking at teh same conference, the Leader of Opposition in Parliament, Nandala Mafabi said that  Ugandans should not be threatened against speaking on issues of corruption and rights of citizens.
Mafaabi said Ugandans should hold government accountable for their actions and ensure that taxpayers' money is not stolen, as seen in recent scandals like OPM.