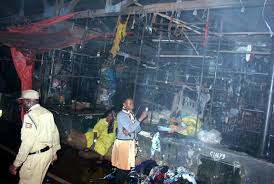 Investigations into the latest fire at Park Yard Market point to arson, as the possible cause.
The Police spokesman Kampala Metropolitan Region, Ibin Ssenkumbi says one person has already been arrested.
He says the arsonists are suspected to have first stolen items from the market before setting the rest on fire.
Senkumbi says there are indicators that the arsonists connived with security guards at the market who also took part on the theft of property.
The findings will end unanswered questions on the numerous fires at the market.
In another development, the police have arrested one person in connection to the murder of a mobile money agent in Nansana on Saturday night.
Yusuf Hood was murdered in cold blood at his home gate in Nansana.