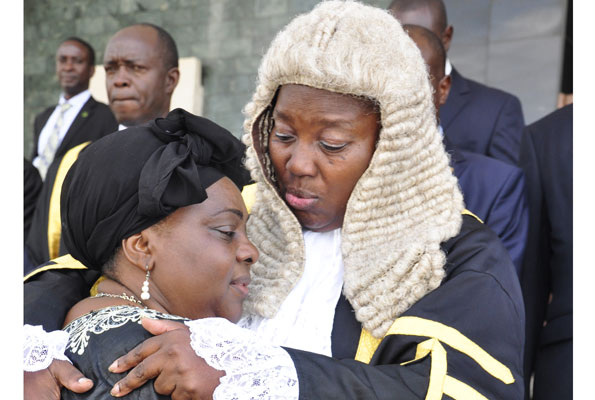 It was a sombre moment in Parliament yesterday as MPs paid tribute to the late former minister Stanislaus Okurut, whom they described as a peace crusader, true patriot and a honest man, who sacrificed his life to restore peace in Teso region.
The late Okurut, husband of the Minister of Gender, Labour and Social Development, Ms Mary Karooro Okurut, who succumbed to heart failure at the weekend at his home in Ntinda, led a government delegation to go and negotiate with the rebels of the Uganda People's Army in a mission where he was captured.
The Speaker of Parliament, Ms Rebecca Kadaga, who presided over yesterday's session, told Parliament in her opening remarks that when she had just joined Parliament, the late Okurut was one of the senior people that served under the Legislative Council (Legico) that mentored her.
"He was selfless, sociable and held the people of Teso at close heart.
He also played a big role in the pacification of Teso region," she said.
The Prime Minister, Mr Amama Mbabazi, yesterday moved a motion for a resolution of Parliament to pay tribute to the late Okurut, which was overwhelmingly supported by MPs.
He talked of the late as one who lived a distinctive life with an illustrious political career as a member of the Legico, Minister of Works and Transport in the post-colonial times and minister of Sports.
"He was tasked to negotiate with the rebels of the Uganda People's Army where he and his colleagues were very active. He continued to pursue peace as a peace builder and championed the amnesty law. He also revived the Chinese offer for the Namboole Stadium," said the premier.
Being one of the few surviving legislators that served in the legico before Uganda attained its independence; the late was hailed for his role in the post independent era and one that lived a humble life.
Mr Jimmy Akena Obote (Lira Municipality) said the late gave Uganda a clear roadmap to follow towards independence.
"They had no role models and were pioneers that time but when you read about their contributions in the Hansards, they were an amazing people," he said.
The Leader of Opposition in Parliament, Wafula Oguttu hailed the late as a very objective and non-parochial statesman and a true democrat.
"You would never tell which party he belonged to. The lesson is how are we living our lives and what contribution are we making to the country?" he asked.
mnalugo@ug.nationmedia.com
SOURCE: monitor.co.ug