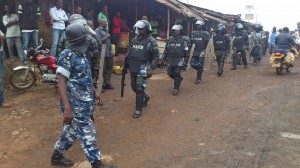 The police in Luweero have a promised to level the field for all candidates in the Luweero district woman parliamentary race.
This follows allegations from the Democratic Party that the police was conniving with the NRM candidate to intimidate its supporters.
The savannah region police spokesperson Lameck Kigozi says the campaigns have so far been peaceful with no chaos.
The campaigns scheduled to end on May 20th ahead of the by election slated for May 22nd.