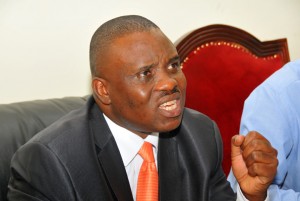 The police have vowed to block the Lord Mayor's planned meeting.
A consultative meeting organized by the Kampala Lord Mayor Erias Lukwago is set to be held tomorrow.
The meeting scheduled to take place at St Matia Mulumba church will seek to address the disagreements at city hall and the entire management of the city.
Lukwago has told KFM that the police have already okayed the meeting which will also set a date for his return to office after the high court halted his impeachment by the city councilors.
However, the police deputy spokesperson Patrick Onyango says no such clearance has been given to the lord mayor.
Onyango explains that they have consulted the Attorney General who advised that the meeting be blocked because Lukwago nolonger holds any post in the city.
Lukwago was impeached late last year over alleged incompetence following recommendations by the 3-man tribunal that was set up to investigate Lukwago's operations.