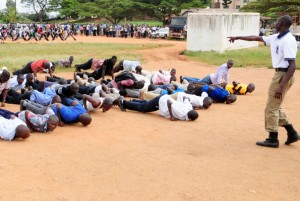 A police recruit has died during training.
30 year old Jacob Owero, a resident of Kiswa zone 7 collapsed while training this morning.
This was his first interview for probation police constable at Kibuli Police Training School in Kampala.
Owero passed away on arrival at Mulago hospital where his collogue had rushed him for treatment.
According to police officers attached to the Kibuli Training School, for someone to go for this interview they have to be physically fit.
Some of the other key requirements are that they must be aged between 18 and 30 years and have principle O Level passes in English and Mathematics.