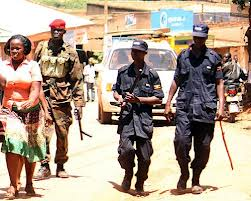 The Police continue to guard the administration block of Kyambogo University after the lecturers went on strike yesterday.
Business at the university is still paralyzed after the lecturers vowed not work as long as Vice Chancellor Isaiah Ndiege returns to the university.
Ndiege is accused corruption and mismanagement of the university, allegations he has often denied.
The police took control of the university security following the chaos that broke out yesterday as Ndiege attempted to gain access to his office.
Speaking to KFM, the Jinja Road police commander Wesley Nganize says they will continue to guard the institution closely until calm is completely restored.
Meanwhile Kyambogo university students have threatened to demonstrate over the indefinite suspension of lectures by the university administration.
According to the guild president John Mugabi, they are preparing to match to the Ministry of Education to seek for answers on the events unfolding at the institution.
He says all they want is to be taught and not be dragged into the stand-off.