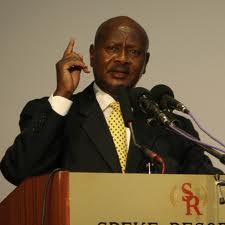 President Yoweri Museveni has added voice to those condemning the attack on Garissa University saying it poses a serious security threat to the entire East African region.
He says the terrorist forces are determined to roll back the gains made by region over the years, requiring a common strategy and joint efforts by all the countries in our region to fight and defeat terror in all its forms.
Meanwhile Kenya has begun 3 days of mourning with flags flying at half-mast.
Easter ceremonies across the country have also been used to remember the 148 students killed in Thursday's attack on Garissa University by Al-Shabaab.
Meanwhile the Prime Minister Dr. Ruhakana Rugunda has asked Christian to reflect on the Garissa attack and pray for the families of deceased as they celebrate the resurrection of Christ.
In his Easter Message, Rugunda says terrorism will not win and that such senseless attacks only strengthen the resolve to fight radical extremism.
The Archbishop of Kampala Diocese Dr. Cyprian Lwanga has condemned the killing of nearly 150 students in the recent attack on Garrisa University in Kenya.
Delivering his Easter Message at Rubaga Cathedral, Lwanga called for a love that cuts across all denominations as one of the sure ways of avoiding such heinous acts against humanity.
Citing the Katikiro of Buganda, Lwanga has also hailed leaders who are championing various development projects, advising him not to be discouraged by critics.
In the same way, Archbishop Lwanga has asked Christians not to take the resurrection of Jesus Christ for granted.
The service was attended by several high ranking government officials including the Vice President Edward Sekandi as well as several ministers.
Christians are challenged to use this Easter celebrations to focus their attention on serving the Lord.
Father Ntege Lubwama, the Assistant Parish Priest of St Peters Nsambya advises believers to denounce their ungodly ways and resurrect with Jesus Christ.
Father Ntege has also advised all Christians to emulate the risen Christ in all they do.