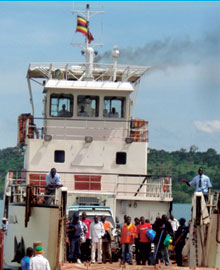 The president is today expected to launch the long awaited Kasana-Kamuli ferry in Kayunga district.
The Shs.3 billion-ferry that has been docked for over three years at Nabuganyi Landing Site in Busaana Sub-county will help to solve the transport challenges residents have been facing.
Ntenjeru North MP Amos Lugolobi says the ferry has been lying idle after big stones were discovered along one of its routes, rendering it ineffective.
Lugolobi says residents who are mostly farmers will now find it easy to transport their produce.