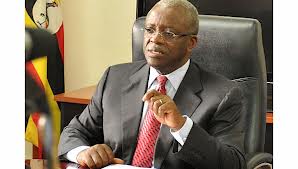 The NRM disciplinary committee has finally closed its doors to the rebel MPs.
This is after the errant members of parliament again defied the party's disciplinary committee today.
Speaking to journalists the NRM Secretary General Amama Mbabazi said the party's disciplinary committee will decide the fate of the errant MPs on Thursday next week.
MPs; Wilfred Niwagaba (Ndorwa East), Barnabas Tinkasimire (Buyaga West), Theodore Sekikubo (Lwemiyaga County) and Muhammed Nsereko (Kampala Central) are accused of going against the party positions in parliament. They are also accused of hobnobbing with members of the opposition.
They had been given upto Tuesday afternoon to clear their names but none turned up.
The seven-man committee chaired the NRM national vice chairman Alhaji Moses Kigongo sat waiting for the MPs at the Kampala Serena Hotel from 10:00am to 7:00pm in vain.
According to Mbabazi who also doubles as the committee secretary, the decision had been reached after the committee received a letter from one of the accused MPs Barnabas Tinkasimire requesting that the complaints against him be put in writing.
Through his lawyers of Ochieng, Ainomugasho and Company Advocates, Tinkasimire also says he needs more time to peruse through the same.
It is against this background that the committee extended the time to 3:00pm however, not one of them showed up.
Regarding claims by the MPs that the committee has no powers to discipline them, Mbabazi said the excuse does not hold water because the High Court already dismissed their petition.
Meanwhile the Rebel legislators insist they will not appear before a committee that is executing its disciplinary duties against provisions of the NRM party constitution.
They insist that there is no need for them to appear before that committee since a provision within their party constitution bars it from holding such proceedings once there is any party matter before the High court.