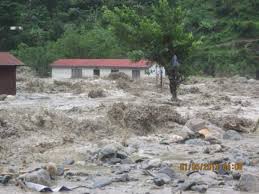 Officials from the Office of the Prime Minister together with the Uganda Red cross and Kasese district authorities are carrying out an assessment of the extent of damage caused by floods in the district.
The team led by the state minister for disaster preparedness Musa Echweru is visiting the affected areas in Bulembia division.
According to the Red Cross spokesperson Catherine Ntabadde, relief trucks arrived last night with items for the over 400 affected  families.
The items include tarpaulins, blankets, mosquito nets, and sacks of maize flour and beans as well as water purification tablets.
She says registration of the affected families started this morning ahead of the actual distribution of relief that starts tomorrow by Red Cross volunteers.
At least 8 people are confirmed to have been killed by the floods that hit Kasese district on Wednesday after River Nyamwamba burst its banks following heavy rains.