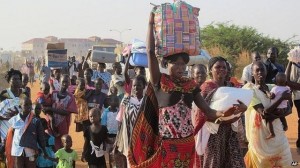 Government has set up  rescue centers for Ugandans in south Sudan.
More people also continue to return home with more than 10,000 already back.
Addressing the media, spokesman of the foreign affairs ministry Fred Opolot said that they are yet to confirm the number of Ugandan casualties and see ways of evacuating them.
Opolot also says that African leaders led by president Museveni have already embarked on a process to restore peace in South Sudan.
More than 500 people have been reported dead as soldiers loyal to former vice president Riek Machar continue to fight government forces.