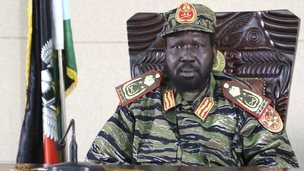 A new round of peace talks between South Sudan's warring parties has been delayed.
Officials from the rebel movement and the Intergovernmental Authority on Development (IGAD) say they expect negotiations to resume Monday next week.
The fourth round of negotiations between the South Sudanese government and the rebel faction led by former vice-president Riek Machar were scheduled to resume on Wednesday 30 July in the Ethiopian capital, Addis Ababa.
According to the Sudan Tribune, IGAD, which is mediating the two conflicting parties, has not yet officially given an explanation for the postponement.
In Juba, South Sudan's Information minister, Michael Makuei Lueth, attributed the postponement of talks to logistical issues and the Eid-el-Fitr Muslim holiday.
The minister has reiterated Juba's commitment to the peace process, adding though, that circumstances under which the talks would resume remained unclear.
Miyong Kuon, an aide to Machar also blamed the delay on logistical arrangements, reaffirming their readiness to rejoin the negotiating table at any time.
"Any delay of the talks has nothing to do with our side. However, Monday is more or less ideal time. It is not even a week away," Kuon told Sudan Tribune.