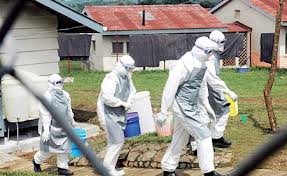 A day after it issued an Ebola alert, government is taking more measures to guard against the deadly virus.
Yesterday the health ministry established screening centers at Entebbe International Airport and all border posts after a suspected Ebola case was reported in Nairobi, while another suspicious death occurred in Kitgum district.
Now relatives of the Ugandan doctor who succumbed to the Ebola virus in Liberia recently have been told that his remains cannot be brought home.
Dr. Anthony Mbonye, a commissioner at the ministry of health says this is one of the sure ways to prevent spread of the deadly virus.
Dr. Samuel Muhumuza Mutoro who was working with the World Health Organisation in Liberia succumbed to Ebola at a Monrovia hospital recently.
Meanwhile the head of the World Health Organization and leaders of West African nations affected by the Ebola outbreak are set to announce a joint $100m response plan.
They will meet in Guinea later today to launch the initiative aimed at tackling a virus which has claimed 720 lives.
Ebola spreads through human contact with a victim's bodily fluids.
Initial flu-like symptoms can lead to external bleeding from areas like eyes and gums, and internal bleeding which can lead to organ failure.