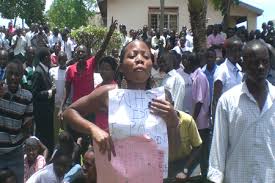 The suspended Nkumba University students can now go back and study.
This is after the University management consented to the students' prayers, admitting that the suspension was null and void.
Through their lawyer Andrew Munanura, Nkumba University has presented the consent letter to the High Court Judge Yasin Nyanzi and agreed to the students back.
The judge has now sent the case file to Nakawa High Court Deputy Registrar for recording since Entebbe under its Jurisdiction.
The lawyer representing the students Ryan Chemusto did not object to the consent.
We spoke to one of the students who is also the lead petitioner Jonathan Kirumira.
Meanwhile separately, the students await the decision of the Nakawa High Court registrar Lillian Mwandha on the application for an interim order seeking to block Nkumba University from enforcing stiff terms and conditions on students.
The students went to Court challenging the management's decision to increase retake fees from Sh.100,000 shillings to Sh200,000 and missed paper fees from Sh20,000 to Sh100,000.
Story by Ruth Anderah