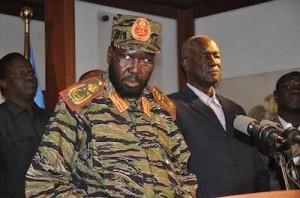 Tension remains high in South Sudan after fresh fighting erupted.
The fighting is between  government forces and soldiers loyal to former Vice President, RiekMachar.
according to the BBC, South Sudan's President Salva Kiir says an attempted coup by soldiers loyal to his former deputy Riek Machar has been put down.
Mr Kiir said the government was in full control of the capital, Juba, after a night of heavy fighting between soldiers in the presidential guard.
A night time curfew has also been put in place and a number of arrests have reportedly been made.
Among those arrested is Riek machar
Meanwhile,Government says all Ugandans living and working in South Sudan are safe.
State Minister in charge of Regional Cooperation, AsumanKiyingi says Uganda's embassy in Juba has not received any information that any Ugandan has been hurt in the fighting.
Kiyingi says the Ugandan government will continue to monitor the situation to ensure that no Ugandans are safe.