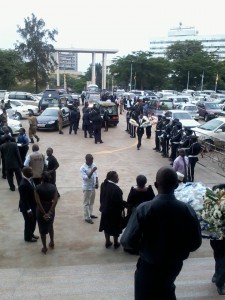 The late Sam Njuba was a patriotic and distinguished politician.
The Prime Minister, Amama Mbabazi has lauded Njuba for his tireless efforts in fostering a peaceful political and legal path for many Ugandans.
Moving a motion for a resolution of Parliament to pay tribute to the fallen FDC chairman this morning, Mbabazi says although Njuba was in the opposition, he was outstanding for his rationale on national matters.
Seconding a motion , the leader of opposition Nandala Mafaabi described Njuba as a principled politician not easily swayed by money.
Njuba has been laid to rest at Nangabo today
Meanwhile parliament has also paid tribute to former Rwemiyaga county Mp and Former Buganda speaker, Fred Higiro Semajege