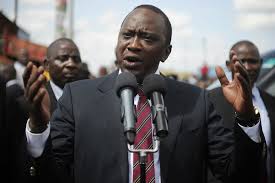 Kenya's President Uhuru Kenyatta has announced three days of mourning.
This after the four-day siege involving suspected Islamist militants at Nairobi's Westgate shopping centre was declared over yesterday.
He said in a televised address to the nation that five attackers were shot dead by troops and 11 suspects were in custody.
Kenyatta said Kenya had "shamed and defeated their attackers" but the "losses are immense", confirming that 61 civilians and six soldiers had died.
Three days of national mourning have been declared, starting today.
President Kenyatta said that several bodies – including those of "terrorists" – were thought to be trapped under rubble after three floors of the building collapsed following a blaze on Monday.