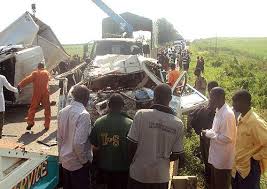 Two people have been confirmed dead in an accident Kagoma along Bombo road.
The accident involved a trailer registration Number UAH 019F that was carrying wheat flour.
According to eyewitnesses, the driver of the trailer failed to complete a climbing lane, sliding backwards before its containers fell off hitting two people.
The bodies have been pulled out and the police have now towed the wreckage off the road to allow smooth traffic flow.
The deceased have been identified as George William Kisitu a truck driver and a one Kibirige, an employee at Kawada Agricultural Research Center.