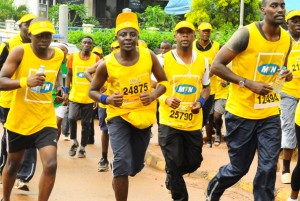 Thousands have today taken part in the annual MTN Kampala marathon.
The runners took part in the 42, 21, 10 Km races respectively. This year's race was dominated by Kenyans who took the day in 42 Km for both men and women.
The race was aimed at raising funds for the provision of clean water for the people of Karamoja sub region.
According to the spokesperson of the Uganda Red Cross Society Catharine Ntabadde, they were well equipped and all emergency cases were handled effectively.
She tells KFM that a total of 22 emergency cases were registered including 7 referrals of fits and hypertension.