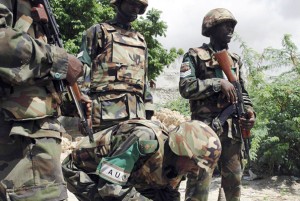 A top Al-Shabab commander has been killed by AMISOM.
AMISOM Spokesman Capt. Deo Akiiki has confirmed that Issa Mohamed Dhoore was killed in an operation by AMISOM and SNA forces in Inimeey village located 10 kilometers from Bulla Burd.
Akiiki adds that the operation also left Al-shabaab camps destroyed.
This comes at the height of the terror threats by the Al-shabaab on the East African region.
The Somali militant group protests the presence of Ugandan and Kenyan troops in the war torn country.