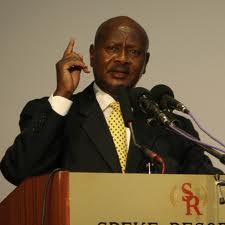 President Yoweri Museveni has reiterated his earlier position that Africa can develop with the available resources. He was this morning opening the African Faith Leaders' Summit on the post 2015 Development Agenda at Speke Resort Munyonyo.
He says Africa is endowed and all that is needed is for the people to work hard and realize their potential to get out of poverty. The president further emphasized that Africa should turn to the developed countries for trade not aid.
Meanwhile, religious leaders have expressed concern over the increasing violence in many Africa countries.
The chairperson of the Inter Religious Council Metropolitan Yonah Lwanga challenged fellow religious leaders to find ways of addressing extreme violence.
He further challenged his colleagues to stand firm and oppose corruption and human rights abuse on the continent.
DRC Sheik Abdalah Mangala urged fellow leaders to fight for the survival of families, arguing that they are the basis for strong nations.
The two-day summit has drawn participants from 24 faith based organisations from across Africa.
It is running under the theme; Enhancing faith communities engagement on the post 2015 Development Agenda.