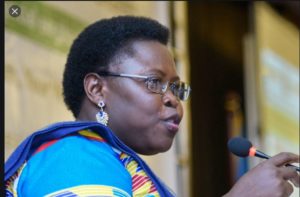 By Juliet Nalwooga
The Health Ministry has revealed that it has not registered any case of a new variant strain of SARS-COVID-2 Virus – currently termed as 501.V2.
According to the World Health Organization a variant of the SARS-COV-2 Virus – currently termed 501.V2 Variant – has been identified in South Africa, Nigeria, parts of Europe, and the UK.
Addressing journalists in Kampala, the State Minister for Primary Health Care Joyce Kaducu noted that the new strain is spreading faster across the globe and that working with regional partners, they will start surveillance to determine its prevalence.
She has advised the public to keep the face mask on as prevention is still better than cure.