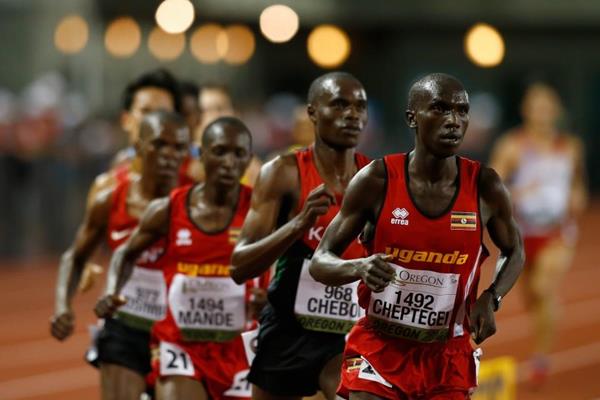 Uganda's representatives at the World junior athlete's competition return today.
The police is set to welcome the three athletes who participated in the IAAF World Junior Championships in Oregon USA
Abdullah Manja, Joshua Cheptegei and Stella Kipsang, all of them police officers are expected to arrive at Entebbe Airport this afternoon.
Joshua Cheptegei scooped a Gold Medal for Uganda in the Men's 10,000 meter race on Tuesday last week.
Cheptegei, the only junior to run faster than 28 minutes this year, fulfilled his role as favourite for the men's 10,000m by triumphing over 25 laps of the track at Hayward Field in 28:32.86 to take the first gold medal of the IAAF World Junior Championships, Oregon 2014, on Tuesday.
Cheptegei held off a strong challenge from the Kenyan duo Elvis Cheboi and Nicholas Kosimbei in the final two laps, finishing with final 400m of 59.6, to capture a memorable victory.
Cheboi came second, crossing the line in 28:35.20, while Kosimbei was third in 28:38.68.
The deputy police spokesperson Polly Namaye says this is a great honor for the force as an institution and entire country.