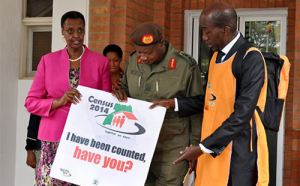 Uganda's population is projected to hit 35 million by 2015.
This is according to the results from the 2014 National Housing and Population Census released by the Uganda Bureau of Statistics.
The provisional results announced at a news conference held this afternoon indicate that Uganda's population stands at 34.9m up from 24.2m in 2002.
This indicates an increase of 10.7m people with an annual growth rate of 3%.
The Prime Minister Dr Ruhakana Rugunda says these figures are crucial for budgeting and evaluation and monitoring of government programs.
Meanwhile, young people are key to future economic and social progress in developing countries,  according to a report released by the United Nations Population Fund.
The UNFPA Executive Director, Dr. Babatunde Osotimehim says young people are the innovators, creators, builders and leaders of the future.
The State of World Population 2014 report reveals that there are more young people in the world, an estimated 1.8 billion, than ever before.
It says developing countries with large youth populations could see their economies soar, provided they invest heavily in young people's education and health as well as protect their rights.
Meanwhile, the state Uganda's population report is to be launched in Kampala on Friday this week.