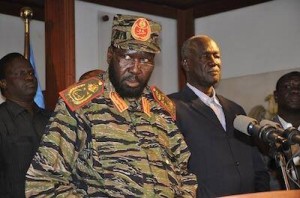 A US evacuation flight from South Sudan has been fired on, causing some injuries.
According to Erin Truhler, the Information at the US Embassy in Uganda, the aircraft that landed at Entebbe was fired on in the town of Bor, which is occupied by forces loyal to former Vice-President Riek Machar.
She has told KFM that four US soldiers were injured and have been taken to Nairobi for treatment.
Meanwhile, the UPDF spokesperson Lt. Col. Paddy Ankunda says over 250 Ugandans have so far been evacuated.
He now appeals to those steal stuck in other states to move to Juba where they can be accessed and evacuated.
Earlier this afternoon, the Uganda Joint Christian council asked leaders in the great lakes region to help their counterparts in South Sudan pursue dialogue to resolve the ongoing conflicts.
The Secretary General of the council Rev. Father Sylvester Arinatwe says Southern Sudan is still a young nation that needs help to grow and survive.
While delivering his Christmas message on behalf of the chairperson council who is also the Arch Bishop of Uganda, the Most Rev. Stanley Ntagali, Arinaitwe said all efforts must be geared towards a peaceful end to this conflict
South Sudan has been in turmoil since President Salva Kiir accused Mr Machar a week ago of attempting a coup.
At least 500 people have been killed in clashes.