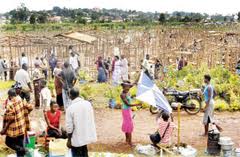 The Police has dispersed a group of suspected veterans who stormed and took over part of the Lubigi water catchment area.
Carrying Pangas and hoes, the group cut the papyrus in the area as they prepared for takeover.
Led by the chairman, Uganda Patriotic Volunteers Association Richard Ntege, the veterans say that they have documents from NEMA clearing them to occupy the swamp on which they intend to sell different commodities.
Ntege says they agreed with NEMA not to set up permanent structures on the land that will be used by 35,000 people.
By the time the police arrived, the veterans had already partitioned the land into stalls.
The same group attacked this wetland recently but was forcefully evicted by the police after the intervention of NEMA.
Lubigi is the largest remaining wetland in Kampala City and provides huge benefits to the surrounding communities.