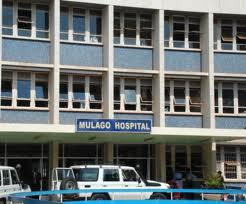 Another patient has been stopped from committing suicide at Mulago Hospital.
Andrew Okembo was this morning rescued after he attempted to jump off the 3rd floor of Ward 3B.
Upon interrogation, Okembo revealed that he was devastated after his half son sold off his cows at Shs 1m.
According to his wife Liyada Nabirye, Okembo was admitted to Mulago hospital after being hit by iron bar hit men in Kamuli.
His son is said to have taken advantage of his father's absence from home to sell off all the cows.
On receiving this shocking news, Okembo decided to take his own life rather than live without his most valued asset.
His wife sounded an alarm attracting the attention of the people around the ward who restrained Okembo from jumping over.
Mulago Hospital Spokesperson Enock Kusaasira says Okembo has been taken for counseling as he continues with treatment.