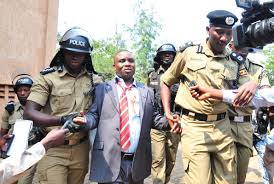 Former FDC Party President Dr Kiiza Besigye has been allowed to leave his home.
He is however being escorted by police patrols to and from the city.
According to the our reporter, Samuel Ssebuliba, Besigye first spoke to commandant Kampala Metropolitan South, Samuel Omala who allowed him to proceed.
Omala however cautioned Besigye to stick to using his car and avoid mobilizing people.
Meanwhile, City Lord Mayor Erias Lukwago is still grounded at his home in Wakaliga after the police blocked him this morning.
According to the Lord Mayor, the officers that are led by Samuel Omala arrived this morning and have since been camped around his home.
Addressing the media this afternoon, Lukwago has however vowed to hold a rally at City Hall tomorrow.
He says he does not expect police interference because the meeting is meant to consult with the public and councilors on the latest developments in the city.
He adds that he has called an urgent meeting with other opposition leaders to chat a way forward.
This is coming days after the police dispersed opposition supporters in the central business district as Besigye and Lukwago tried to address them.
The police have vowed to continue camping at the homes of the Lord Mayor and former FDC leader Dr Kiiza Besigye
The Police Deputy Spokesman Patrick Onyango says they have got information that the two leaders have plans to visit Owino market for shopping and Lunch which will not be allowed.
Onyango says they have also deployed heavily in town to quell any form of violence
He says they have the capacity to handle the two leaders whom he warns against causing any form of mayhem.