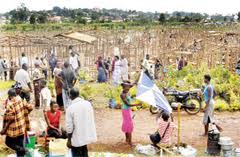 A group of suspected veterans has stormed the Lubigi water catchment area in Namungoona.
Carrying Pangas and hoes, the group began cutting papyrus in the area for takeover.
The same group attacked this wetland last year but was forcefully evicted by police after the intervention of NEMA.
Lubigi is the largest remaining wetland forest in Kampala City and provides huge benefits to the surrounding communities by reducing the effects of the twice a year floods.
This 'green lung' shelters at least ten globally threatened species, and is important for the rare and beautiful Grey-crowned Crane, Uganda's national bird.