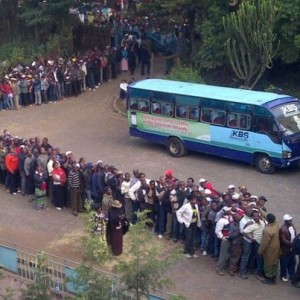 Elections in four county wards in Kenya have been halted.
Addressing the media this morning, the Independent Electoral and Boundaries Commission chairman, Issack Hassan cited Kuria East in Kuria district, Nyabaro West, Goke Haraka and Bunyala South as the areas affected by mix up of polling materials.
Some of the ballot papers bore names of candidates but with missing pictures while others did not bear names of candidates.
Hassan says the the commission has postponed the elections of the affected areas to 11th March to enable for fresh ballot papers to be printed out.
He says elections for the other positions will go on as planned.
Hassan also revealed that 12 candidates who stood unopposed for different positions will soon be gazetted by the IEBC.