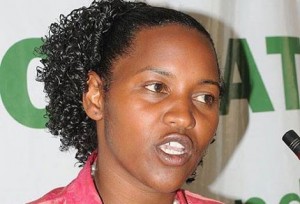 Luweero District Woman MP elect, Brenda Nabukenya says she is not shocked by the Democratic Party's win in yesterday's by-election.
Speaking shortly after being declared winner, Nabukenya said the outcome of the by-election only confirmed that her first win was genuine.
The Democratic Party Secretary General, Matthias Nsubuga thanked the people of Luweero for what he termed as going back to their roots.
Nsubuga said Luweero was a DP strong hold before the NRA war and will continue to be.
Yesterday's by-election marks the end of a 26-day electoral process that has been characterized by accusations and counter-accusations.
The Luweero district woman parliamentary seat fell vacant after the Court of Appeal nullified results from the 2011 elections over electoral malpractice