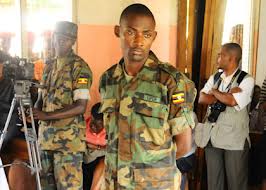 Women activists have condemned the release of Lance corporal Herbert Rwakihembo who was earlier sentenced to 30 years in jail for shooting dead three people including his wife Irene Kawendeke.
The Army's Appeal Court set free Rwakihembo, on grounds that the punishment was too harsh.
Women groups including FIDA and the Centre for Domestic Violence Prevention among others say this is justice denied to the families who lost their lives in the shooting.
The executive Director of CEDOVIP Tina Musuya says this will encourage other soldiers to kill their wives putting the lives of women in danger.
The women's activists have vowed to appeal in the civil court of appeal for justice.
The Division court Martial in 2013 sat at Luzira Church of Uganda Primary School and sentenced Rwakihembo to 30years after finding him guilty of Manslaughter.
The UPDF Corporal attached to Luzira Military barracks committed the offence at Kisenyi zone III in Luzira, Nakawa Municipality in Kampala on December 10, 2012.