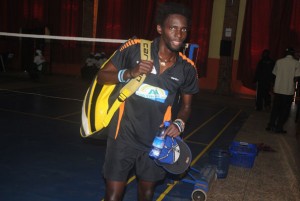 Edwin Ekiring is still gutted after being ejected from the Uganda International on Friday. He lost to Italy's Wisnu Hary Putro 2-0.
The youthful ace, who was forced to pull out at the quarter final stage due to injury last year, is yet to win the biggest tournament on the Ugandan calendar
"I have more pressure to do well when I play at home," said Ekiring, who rued an opportunity to impress the home crowd and win over some more fans.
Successful 2011
Ekiring enjoyed a successful 2011 season winning a silver medal at the All Africa Games in Maputo, gold at the Botswana International and silver at the South Africa International. His performance for Dutch club Amsterfoort has also been top notch as the team qualified for the European finals.
However his failure to reproduce this form in the Uganda International means he walks away with just 920 points.
Had he made the quarter finals, Ekiring would have collected another 600 valuable points for his Olympic qualification bid. "I still have more tournaments to play, so I can still make the Olympics," said Ekiring, who will take part in the Iran International, the African Championships as well as the Thomas and Uber Cup scheduled to take place in Ethiopia later this year.
Ekiring (98th) must remain within the top 100 players in the world in order to qualify for the 2012 London Olympics in July.