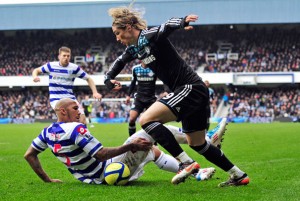 One of the sweet ambiguities of football that would have Alex Ferguson repeat those infamous words "bloody hell" has his tinkering and unpredictability working, while the relative stability of Andre Villas-Boas is not.
Amidst all the chaos at Chelsea this season, triggered almost exclusively by a lack of the patience required to manage transition, there lies a recent expectedness about their line-up that will have gone unnoticed because of unsavoury scoreboards.
On recent weekends, it will have been Juan Mata and Daniel Sturridge on either side of Fernando Torres upfront, Oriol Romeu and Frank Lampard joined by Raul Mereiles in the middle (in the absence of Ramires and with Florent Malouda and Michael Essien providing back-up), John Terry and David Luiz flanked by Ashley Cole and Jose Bosingwa at the back, with Bratislav Ivanovic as the versatile cover.
That is a far cry from what has been happening with Man United; there has been no telling which eleven would step out onto the pitch lately, the absence of up to eight potential starters not deterring Ferguson from chopping and changing from midweek to weekend.
The irony, bitter or cute depending on which side of the divide one happens to fall, is that Fergie has had more success in the league in the same period, never mind the Cup defeats that have left him desperately out of trophy options.
With one protagonist as uncertain of his results as the other is of his selection, the meeting between these two at Stamford Bridge this weekend should make for interesting viewing.
Blessing in disguise
The mere suggestion that there is at least one positive twist to United's injury woes might be met with disbelief, but take a closer look from a tactical standpoint at recent performances and you realise that the absence of Ashley Young and Nani has not been a necessarily bad thing.
That can only be true in the short term though, there is no doubt that United will need the creative and goal scoring abilities of either man in the run-in of a title race that seems destined to run the entire course.
Having only one instead of two wingers is a blessing in disguise over this period of tight fixtures that started with a trip to Arsenal and will end with one to Tottenham four games from now.
At the Emirates both Nani and Antonio Valencia started, and United's ability to control midfield proceedings for decisively long spells was down to Wayne Rooney dropping into that zone to help out Michael Carrick and Ryan Giggs.
With Young already out and Nani taking a knock that day, Fergie has had to draft in Ji-Sung Park whose tendency to drift centrally with the team in possession and attack or without the ball on the back foot made a big difference against Liverpool in the FA Cup and Stoke last Tuesday.
Having dominated Liverpool at Anfield for an hour, United only lost out because they didn't react quickly enough to Kenny Dalglish's changes and then wrongfully withdrew conductor-in-chief Paul Scholes when they belatedly did.
Key figures
That he cannot pick a second winger has spared Fergie the potentially fatal temptation because, as was the case with Alex Song, Thomas Rosicky and Aaron Ramsey for Arsenal, Chelsea will inevitably play with a midfield triangle.
One of United's three key men will be Scholes again, whose retention and distribution skills were rekindled as a sub against Man City in the Cup, underlined at Anfield and epitomised against Stoke.
For Fergie's men to leave the Bridge with something in the bag they will have to protect Scholes by having an extra body joining Carrick, easing the distracting defensive load on the little man and allowing him to orchestrate. Enter Park or Giggs.
The second of that vital trio is Valencia, a man feeling invincible at the moment. United can only afford one touchline-hugging wide man in games like these, and when he is in such form there is scarcely a need for another.
Yet the Ecuadorian's newly acquired irrepressible threat has only be attained because of his willingness to cut in and run infield, making him less predictable and giving him more weapons than just the cross as he can now pass short into the box, lay it square for a shooter or go for goal himself.
Because left backs are aware of that option and now have to guard inside and outside, it has become harder for them to stop Valencia getting to the byline and swinging one in.
And because of the variety to his game now the contributions have extended to headers (ask Thomas Vermealen) and runs like the one that earned the Stoke penalty against a defence (Huth and Shawcross) that would not have allowed crosses to hurt them. In Cole's absence, Chelsea might have to consider switching Ivanovic to the left rather than throwing young Ryan Batrand into disturbing depths.
Valencia's newfound attributes have made United's 4-4-2 less flat and predictable, as does the flexibility and adaptability of their third key man – Rooney – whom they must have back at all costs.
Incomplete puzzle
Chelsea themselves have of late been playing much better than their points tally suggests, and draws at Norwich and Swansea would have been welcome had circumstances not been this desperate.
All they need to do turn the whole place around and claim fourth place as their own is buy Torres a goal. I had fancied the prolific-to-profligate Spaniard to end his drought against Swansea and probably lost a few punters some money with that tip, but I stick my head out and claim that my call came a few days early.
Facing one of the few teams he has managed to score against this season (it should easily have been a hat-trick at Old Trafford), Nando is surely due some luck. Should it come, Fergie will no doubt be left saying "football – bloody hell".