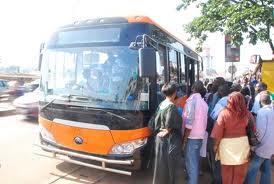 A decision on whether or not Pioneer Easy buses return to the road will be made on Monday next week.
The Uganda Revenue Authority says it is has held a series of meeting with all the concerned parties and final position on the impounded buses will be announced next week.
The over 100 buses belonging to Pioneer Easy Bus company were impounded by URA two weeks ago over tax arrears amounting to Shillings 8bn.
John Masanda one of the directors of Pioneer Easy Bus, says during the last 8 days they have met several stake holders including KCCA, and officials from the ministries of transport and finance to forge a way forward, but due to gravity of the matter, the deadline for drafting a credible payment plan has been extended to Monday next week.
URA had given pioneer an 8 day ultimatum to pay the 8 billion or else or the buses be auctioned.
Now one of the sticking issues that remain unresolved is the clause in the contract which proposed among other things special lanes for these buses, but have never been provided.