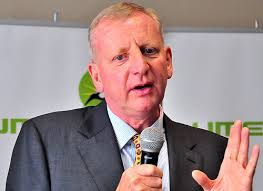 The recent fire outbreak at Mawanda power station has cost UMEME upto 500,000 US dollars.
Last Sunday, the Kampala North substation located along Mawanda Road caught fire causing extensive damage to vital supply equipment to over 50,000 customers.
This outage affected major areas including Makerere University, Nakasero Blood Bank, Nakasero and Mulago Hospitals among others places.
Speaking to KFM, the UMEME Managing Director Charles Chapman said the repairs, expected to be complete by Friday this week will cost an estimated half a million dollars.
He however notes that many of the affected areas have been reconnected to alternative power lines.
According to a preliminary report by the electricity Regulatory Authority indicates that the fire was caused by failure by a protection system on the Nakulabye feeder line.