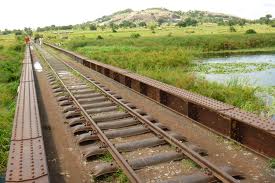 Some legislators want Parliament to set up a select committee to investigate the 20 trillion shillings railway deal awarded to a Chinese company.
On Wednesday, government signed an agreement with China Harbour Engineering Company to upgrade and expand Uganda's railway network to a standard gauge from Malaba to Kampala.
Addressing the media at Parliament today, MPs Theodore Ssekikubo, Paul Mwiru, Barnabas Tinkasimiire and Abdu Katuntu questioned the manner in which the company was given the deal yet court had overruled a decision by government to cancel the same award to Chinese Civil Engineering Construction Corporation.
They want Parliament to also probe the actual money to be paid out, as well as reports that Rosa Whittaker obtained a commission of up to 20 million dollars to push for China Harbour Engineering Company to clinch the project.